Emergency First Aid at Work in Leicestershire
HSE Compliant One Day Training Course
Who should attend?
Great for low risk and small workplaces, also suitable for those looking for home use.
Unsure what level of cover or course you need? Check here
Alternatively, call our Service Superhero Team today on 0330 335 1234 to find out more.
What's covered?
Basic Life Support (CPR - all ages)
Spinal and Head Injuries
Choking
Unconsciousness
Bleeding, Burns and Fractures
Using a Defibrillator
First Aider Responsibilities
Course Features
Health & Safety Executive Compliant
Fun & Interactive Workshop
Three Year Certificate
Adult, Child & Baby First Aid
Using a Defibrillator
No Tests - ongoing assessment by the tutor
100% Confidence Guarantee
Benefits of training at SkillBase Leicester...
If you are looking for training at one of our venues, you can attend any of our scheduled courses, which include:
Free refresher courses at 12 & 24 months, allowing employers to meet the strong recommendations of the HSE, and keeping first aiders more confident and better prepared for emergencies.

Free lunch, reducing hassle for delegates, and additional expenses for the employer.

Free parking at our training venue, so delegates have less traffic and parking stress, and saving employers money reimbursing expensive parking costs.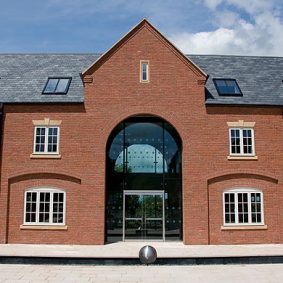 These are a few of our favourite things...
Our Service Superheroes make booking easy-peasy!
It's really simple to book with us.
We'll confirm your booking on email straight away, and of course send
you everything you need to know. Our team love making things super-easy for our clients!
Click here to book online, or call our team of Service Superheroes today on 0330 335 1234
100% Money Back Confidence Guarantee!
Yep. You read it right.
We guarantee that everyone who trains with us will leave as a confident first aider – or we will refund and retrain, so you can be assured that we are committed to the confidence of your workplace first aiders.
Of course, a few common sense T&C's apply, but no catches!
98% of delegates rate our courses as excellent!
We're pretty proud of that.
The unique, interactive workshop design of our courses make sure that everyone is relaxed, enabling them to confidently ask questions
- we believe people learn better that way.
Defibrillator training included as standard
Giving a free overview of using defibrillator on every course, to help try and reduce the 250 people die every day of sudden cardiac arrest in the UK.
Confidence with kids too
- just in case
Training choking and resuscitation of babies and children as standard. Even if workplaces don't have children onsite, our first aiders can have confidence at home too. The more confident the first aider - the better they will be in an emergency.
Tests banished to concentrate on practical
Having no stressful tests on courses, so we can concentrate on confidence building practice time.
Click here to book online, or call our team of Service Superheroes today on 0330 335 1234
Course Dates & Online Booking
All prices include free lunch, free parking & resources. Prices are shown exclusive of VAT.
Searching Availability...
Confused about what training you need?
One day, three day, paediatric? It can all get a bit confusing choosing the right course.
Just call our team on 0330 335 1234, they love to chat about what's the best choice!
Just a quick query? -

Click here for our three click wizard

to find out which course is best, and meets Health & Safety Executive Guidelines.
Trusted by over a hundred-thousand first aiders!
Clair Sims

2016-07-13

Just completed 3 day 1st aid course at the coach house Desford. Tutor was vibrant, enthusiastic, good balance between humour and keeping the course on track.

Vanessa Hardy

2016-08-17

Great requal course over two days, professional and informative - it's given me back confidence for first aid responding. Good service all round from initial booking to completion.
Gill Cleave

2016-08-13

Can't fault anything about Skillbase. Fabulous venue and fantastic trainers and office team. Top notch service all around. Would give 10 stars if I could.

Charlotte Metcalfe Holyland

2014-07-25

I have just finished my 3 day first aid course at Skill Base. The course was great fun and the facilities were excellent. It was a great environment and all the staff are very friendly. I would highly recommend Skill Base.
Amanda Bradley

2016-08-18

What a fantastic course! Who knew First Aid could be so much fun to learn! Highly recommended. Learnt alot thank you

Sarah

2016-08-16

Great course. Tutor used great method of training with visual, writing and practical demonstrations. Class was a perfect size. Really pleased I attended and would not hesitate in signing up to a SkillBase course again because of this experience.
Martyn Coton

2015-12-02

WOW!!! Been on quite a few first aid courses over the years, this one was very different, the trainer was amazing. The course content was very relevant to what we could encounter in everyday life, it was put over to us in a fun and practical way.

Christine Micklethwaite

2016-02-03

I enjoyed the course and felt much more confident in my first aid skills than I ever have before. Highly recommended!
Nina

2016-08-16

I thought the course was great - well delivered, very informative, went home and remembered important elements! Book was fantastic and user friendly, will deffo be back!
You're in good company.
These lovely folk trust us with their first aid training too.