Four Hour Overview Course
The 'baby of the family', Foundation First Aid is a shorter course for those with limited time, or just needing an overview of first aid. While a bit on the short side, Foundation First Aid still packs a punch, and you can still expect the same SkillBase First Aid training and a good boost in first aider confidence.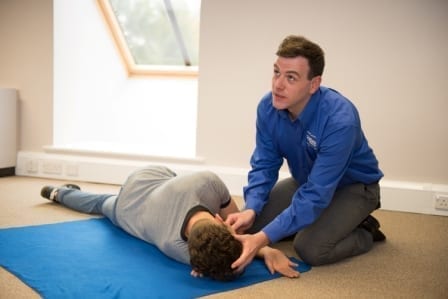 Those short of time or wanting a great confidence boosting session covering essential first aid.
Workplaces or are really small and have very low risks, who don't need to have a HSE compliant first aider on site.
Workplaces looking for additional backup cover to assist workplace first aiders already fully trained.
Unsure what level of cover or course you need? Check here
Call our Service Superhero Team today on 0330 335 1234 to find out more.
Emergency Actions
Child, Baby & Adult Basic Life Support (CPR)
Child, Baby & Adult Choking
How to use a defib (AED)
Unconsciousness & Recovery Position
Bleeding & Burns
Each delegate will get a certificate valid for three years.
Don't forget that all of our courses are backed by our 100% Confidence Guarantee!
To get this information sent to your inbox, click here.
If you have a group of people to train, this course is available at your preferred location for up to 12 delegates. Additionally, when you train at your own venue, you'll also benefit from:
Great value for money! Usually, if you have more than 4 people to train an 'in-house' course works out better value.
No additional traveling or travel costs for your team.
Times and dates can be tailored to suit you.
To find out more or book your group training today, call our friendly team now on 0330 335 1234

From £32
per person
£375 for up to 12 people
£425 within the M25
Our pricing structure is transparent. There are no hidden costs such as certification or mileage. Prices exclusive of VAT.
To get this information sent to your inbox, click here.
This course isn't available at our centres. Courses with similar content that are available at our centres include:
Trusted by over a hundred-thousand first aiders!
Teri Warner

2017-10-31

Actually came away feeling more confident about my first aid and I did really enjoy the 2 days!

Amanda Bradley

2016-08-18

What a fantastic course! Who knew First Aid could be so much fun to learn! Highly recommended. Learnt alot thank you
Sarah

2016-08-16

Great course. Tutor used great method of training with visual, writing and practical demonstrations. Class was a perfect size. Really pleased I attended and would not hesitate in signing up to a SkillBase course again because of this experience.

Gee Allsopp

2017-10-31

Finished the instructors course yesterday. I was very impressed with whole course. The concepts they use for teaching 1st aid are original and engaging. Brilliant course, looking forward to being part of the network and teaching my first course as SkillBase. Thanks.
Christine Micklethwaite

2016-02-03

I enjoyed the course and felt much more confident in my first aid skills than I ever have before. Highly recommended!

Clair Sims

2016-07-13

Just completed 3 day 1st aid course at the coach house Desford. Tutor was vibrant, enthusiastic, good balance between humour and keeping the course on track.
Vanessa Hardy

2016-08-17

Great requal course over two days, professional and informative - it's given me back confidence for first aid responding. Good service all round from initial booking to completion.

Steph Alexander

2017-10-31

Great two day First Aid Course!! Brilliantly presented, with the aid of interactive sessions, full of information and appropriate guidance to aid with learning first aid skills! Sarah you were fabulous could not have asked for a better tutor!! You certainly made it an enjoyable learning experi...
Gill Cleave

2016-08-13

Can't fault anything about Skillbase. Fabulous venue and fantastic trainers and office team. Top notch service all around. Would give 10 stars if I could.

Martyn Coton

2015-12-02

WOW!!! Been on quite a few first aid courses over the years, this one was very different, the trainer was amazing. The course content was very relevant to what we could encounter in everyday life, it was put over to us in a fun and practical way.
Rebecca Fuller

2017-11-09

I attended the Instructor training at Skillbase. I thought the training was second to none. The instructors were very knowledgeable and experienced in First Aid. They made you feel at ease, and comfortable to ask questions. The practical aspects of the course were fun, which made the content e...

Charlotte Metcalfe Holyland

2014-07-25

I have just finished my 3 day first aid course at Skill Base. The course was great fun and the facilities were excellent. It was a great environment and all the staff are very friendly. I would highly recommend Skill Base.
Jonathon Carrier

2017-11-09

I have been working with SkillBase for just over a year and It has been an absolute pleasure they are professional and take pride in looking after their growing network of instructors. As an instructor myself I chose SkillBase as they offer an excellent balance of energy and real life examples...

Nina

2016-08-16

I thought the course was great - well delivered, very informative, went home and remembered important elements! Book was fantastic and user friendly, will deffo be back!
Stacey Finch

2017-10-31

Excellent three day first aid course really enjoyed it and found it interesting also was fun would definitely recommend. Thank you to Sarah the tutor you were brill.
We LOVE to hear from our clients and first aiders that have been on our courses.
Submit your testimonial here to let people know about your experience!
You're in good company.
Big & small - we have a lot of love for these lovely folk trust us with their first aid training too!
Shall we pop this all on an email for you..?
Just a couple of quick questions, and we'll get it over to you in a jiffy! We promise we'll keep your details safe and sound 🙂
We hate SPAM as much as you do! Just to be clear, we'll send you this information, and then a short series of follow up emails with useful information too. You can opt-out of our emails at anytime, we'll always put a one click unsubscribe link on for you.
CONFUSED ABOUT WHICH FIRST AID COURSE IS RIGHT FOR YOU?
One day, three day, paediatric? We admit that it can be a pain to choose the perfect first aid training. But, no problem, because helping people choose is one of our favourite things! Just call our team on 0330 335 1234, we love to chat about first aid courses!
Just a quick query? Our three-click quick check will help you choose!
Posts we think you might like...
Let's talk! We're on 0330 335 1234