Four Hour Overview Course
The 'baby of the family', Foundation First Aid is a shorter course for those with limited time, or just needing an overview of first aid. While a bit on the short side, Foundation First Aid still packs a punch, and you can still expect the same SkillBase First Aid training and a good boost in first aider confidence.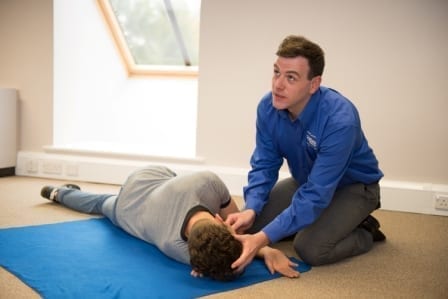 Those short of time or wanting a great confidence boosting session covering essential first aid.
Workplaces or are really small and have very low risks, who don't need to have a HSE compliant first aider on site.
Workplaces looking for additional backup cover to assist workplace first aiders already fully trained.
Unsure what level of cover or course you need? Check here
Call our Service Superhero Team today on 0330 335 1234 to find out more.
Emergency Actions
Child, Baby & Adult Basic Life Support (CPR)
Child, Baby & Adult Choking
How to use a defib (AED)
Unconsciousness & Recovery Position
Bleeding & Burns
Each delegate will get a certificate valid for three years.
Don't forget that all of our courses are backed by our 100% Confidence Guarantee!
If you have a group of people to train, this course is available at your preferred location for up to 12 delegates. Additionally, when you train at your own venue, you'll also benefit from:
Great value for money! Usually, if you have more than 4 people to train an 'in-house' course works out better value.
No additional traveling or travel costs for your team.
Times and dates can be tailored to suit you.
To find out more or book your group training today, call our friendly team now on 0330 335 1234


From £36 per person
£432 for up to 12 people
£600 within the M25 or at weekends
Our pricing structure is transparent. There are no hidden costs such as certification or mileage. Prices exclusive of VAT.
Any questions? No worries! We're on 0330 335 1234 if you need us.
Trusted by over a hundred-thousand first aiders!
Dr Priyank Dube

2019-09-02

Thank you for the refresher course. Yvonne was extremely helpful and very approachable.

Asa Cresey

2019-11-26

The course was very informative with feedback given throughout. The pace of the session was very good, and the tutor was very knowledgeable and fun 🙂

Sherene Reading

2021-05-20

Best 1st Aid course I've ever been on! Thoroughly enjoyed the course, tutor was very clear on the topics delivered and ready to answer any questions. Adapted well during Covid times
Max Damen

2018-02-14

I have attended four other first aid courses and would rate this by far the best. Interactive and demonstrations make the course far more interesting than hours of powerpoint slides. Excellent t...

Charlotte Wright

2019-07-29

Really fun and informative! Will definitely attend in the future for a refresher and would recommend to anyone.

Chris Gedney

2019-03-21

A fantastic day with very detailed information. Can't recommend them enough!
Sarah Scripps

2019-04-18

Really friendly and funny course, that was made it interesting and entertaining.

I would highly recommend this course!

Sian Cooke

2019-09-09

I enjoyed every minute of my First Aid Training. Terry was really good at delivery and made it fun. I will take a lot away with me.

Rikesh Valand

2019-03-21

A very refreshing course which was delivered in an engaging and interactive way, far from the mundane 'classroom style' I expected. I've come away having had fun whilst learning! Thanks!
Jenny Arbuthnott

2019-05-10

Our trainer was excellent. The course was very informative, clear and precise!

Nicole

2019-09-10

Richard was fabulous! He did not allow the course to become boring. While the subject was serious, it did not feel overwhelming and was enjoyable throughout.

Alison Postlethwaite

2019-01-09

All very clear and well explained, with a little touch of humour where appropriate!
Laura McCandless

2018-12-19

A well-placed course with easy to understand information. Karen was able to answer all questions and gave different examples, which made it easy to relate course content to real life!

Daz Singh

2018-11-30

Really enjoyed the three-day course, it was a fun environment which made learning easy. I feel confident in my duties as a First Aider!

Lauren Bailey

2019-07-02

Very informative and clear. Great equipment and plenty of opportunity for questions.
Claire-Michelle Quinton

2019-09-09

Good variety of task used in the course which was great as most of the delegates were not used to sitting down all day, so was great that the courses are practical.

Kayleigh Duncan

2018-03-05

Very informative first aid training, Very thorough in all aspects of first aid training and would recommend SkillBase training.

Jas Darar

2019-09-02

A really useful half day. Regained my confidence.
Claire Withers

2019-06-18

Learning was fun but focused, which kept it engaging at all times.

Peter Brown

2018-11-14

Excellent day, I learned a lot having never has any first aid training before. Everything was described really well and I would now feel more confident in a first aid situation.
We LOVE to hear from our clients and first aiders that have been on our courses.
Submit your testimonial here to let people know about your experience!
Can't decide which physical first aid course is best for you?
One day, three day, paediatric? We admit that it can be a pain to choose the perfect first aid training.
But, no problem, because helping people choose is one of our favourite things! Just call our team on 0330 335 1234, we love to chat about first aid courses! 

Let's talk!
We're on a mission to fill the UK with superheroes-on-standby. First Aiders trained in a way that gives them confidence, not just competence.
There's lots to do. Lets get started.
Here's how you can get in touch with us. We should probably warn you that we sometimes get quite excited when talking about first aid training. It's our favourite thing.
Call our team
0330 335 1234